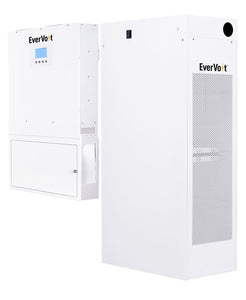 Panasonic EverVolt, AC Coupled Plus, 17.1 useable kWh, with 5.5kW 120/240Vac Inverter, Enclosure w/Kit, PowerHub Controller w/PLC, EVAC-105-6
Panasonic's iconic battery technology, which drives the world's most advanced electric vehicles, is now available for use in your home. EverVolt™ stores the excess energy produced by your solar panels during the day to be used during grid outages or sold to your local utility. This AC-coupled storage system, which comes in four or six battery configurations, works with or without solar and provides renewable usable energy power ranging from 11.4 kWh to 17.1 kWh.
KEY FEATURES
The modular design accommodates any size home with storage options ranging from 11.4 kWh to 17.1 kWh.
It can be used with new or current solar panel systems, or it can be used as a stand-alone renewable energy source.
Installation is simple with new or existing solar systems, and most generators are seamlessly integrated.
Monitor and manage system operation, performance, and more from the EverVolt mobile app
Panasonic offers a 10-year warranty on the entire system.