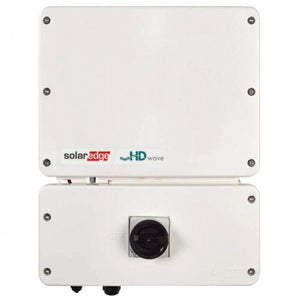 SolarEdge, SE7600H-US HD-Wave, 1-Ph, Grid Tied Inverter, 7600W, 240Vac, 60 Hz, 2 Unfused Input, 12 Yr Warr, Ground-Fault/Arc-Fault Protection, Ungrounded, RS485 and Ethernet, -40C, AC RSD, UL1741-SA, SetApp Enabled, SE7600H-US000BNU4
SolarEdge's HD-Wave technology inverter, which won the prestigious Intersolar award in 2016, defies conventional inverter design. The HD-Wave technology inverter synthesizes a clean sine wave using a novel power conversion technology based on a distributed switching and efficient DSP processing, resulting in a drastic reduction in the magnetics and heavy cooling components. This small and light inverter allows for easy shipping and storage, as well as one-person installation. Because of the record-breaking efficiency, more energy can be generated, resulting in a higher return on investment.
THE SOLAREDGE SE7600H-US000BNU4 SINGLE-PHASE INVERTERS NOW HAVE A SMART NEW COMMISSIONING METHOD THAT INVOLVES USING THEIR INTUITIVE SETAPP MOBILE APPLICATION ON A SMARTPHONE. IT'S NEVER BEEN EASIER TO COMMISSION AN INVERTER. WHEN YOU HAVE ALL OF THE KNOWLEDGE YOU NEED IN THE PALM OF YOUR HAND, THE DISPLAY SCREEN IS NO LONGER NEEDED! DOWNLOAD THE SETAPP HERE: SOLAREDGE SETAPP
Features:
Indoor and Outdoor Installation Specifically Designed to Work with Power Optimizers
With a weight of less than 25 LBS it's small and light.
Module-level control is built-in.
The efficiency of 99 % CEC Weighted Efficiency is a new high.
Oversizing of DC/AC by up to 155 percent is permitted.
Strings that are longer (Up to 6,000W per String on SE7600H)
Article 690.11 and 690.12, Integrated Arc Fault Security and Rapid Shutdown for NEC 2014 and 2017.
For CPUC Rule 21 grid enforcement, UL1741 SA certification is required.
The SolarEdge SetApp allows you to commission inverters quickly and easily from your smartphone.
Without the use of electrolytic capacitors, there is less heat and higher reliability.